2023 CISTAR Outstanding Mentor Awards
CISTAR values our mentors who give their time, experience, and intellect to help prepare the next generation of engineering researchers, teachers, and workers. Based on the nominations received, the Mentoring Award Committee* is pleased to recognize the following winners of the CISTAR Outstanding Mentor Awards for 2023.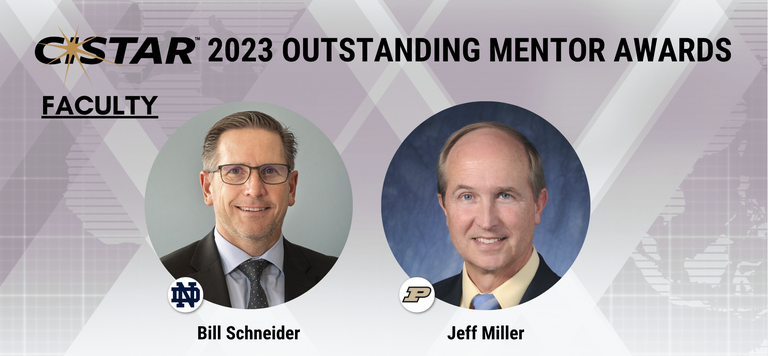 William (Bill) Schneider, University of Notre Dame
"Bill is a great example of firm and supportive leadership.  He has helped train my critical thinking skills by challenging me to question assumptions, to think deeper about conclusions from data, and to consider both the details and the big picture."
"He supports both my professional development and personal life in a way that shows me he truly cares about me as a person and as a researcher."
"He went above and beyond as my mentor in the last year in many ways. I am grateful for the work he does for me and my fellow group members."
Jeff Miller, Purdue University
"Dr. Miller is one of the best mentors I have ever had, and I would have not been able to experience or attain many of my research, internship, and scholarship opportunities without his help and guidance."
"Jeff Miller pours his heart and soul into each and every one of his students. He serves as a mentor not only to his own students but also to several students from other groups here at Purdue and throughout CISTAR." 
"His 'Jeff-isms' serve as memorable life lessons, emphasizing the importance of creative thinking, collaboration, and pursuing personal goals alongside scientific ones."
"He is generous with credit for ideas, skills, and progress and he views the accomplishments of his students with pride and joy."
 
Each outstanding graduate fellow mentor will receive a $200 scholarship and a CISTAR jacket. 
Justin Rosenthal, the University of Texas at Austin
"He got us involved right away and had us in the lab working using the lab skills we had coming in but also helping us develop our skills and acquire new ones. After we finished and returned to our schools, he has stayed in touch and updated us on the progress of his research and our contributions."
"Justin made the entire summer a positive and pleasurable experience.  I believe that the preparation he did prior to my arrival in the lab, the daily support and troubleshooting that he provided, and the expert knowledge that he was able to relay to me - someone with no experience - were invaluable."
"Even though the summer project has ended, Justin remains in touch via email, sharing the progress of what we started and still answering my questions. He is the definition of a mentor, in every deed and word."
Isabel Ibarra, the University of New Mexico
"In addition to working with my fluctuating availability, Isabel was able to explain to me in much deeper detail how our project outputs impact large-scale manufacturing processes."
"She was extremely patient with me as I went about troubleshooting a problem that was several steps away from our current issue, and explained how those variables could severely change or become irrelevant once the current issue was resolved."
"Working with Isabel has given me a greater understanding of the scope and more detailed knowledge of testing solutions and continuous troubleshooting workflow in research."
Sopuruchukwu Ezenwa, Purdue University 
"He has been everything I can ask for in a graduate mentor…he always makes time to discuss any questions or concerns I have regarding my research or postgraduate plans."
"Not only do I feel respected by him at the academic level, but it is evident that he genuinely cares about me as a human being."
"His passion for mentoring and chemical engineering shines through in every conversation we have, and working with him has been a driving factor in my desire to pursue a doctorate degree in chemical engineering."
We appreciate everyone who helps create a mentoring type of culture in CISTAR.  We look forward to congratulating these 2023 Outstanding Mentor Award winners in person at CISTAR's Biannual Meeting at UTA.
*The mentoring committee was Denise Driscoll (chair), Elsa Castillo, Maeve Drummond Oakes, Ricem Diaz Arroyo, and Ruilan Guo.