CISTAR Fellow David Dean Recognized with CoE Magoon Teaching Award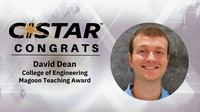 David Dean, a CISTAR Fellow, has been awarded the College of Engineering Magoon Teaching Award for outstanding teaching assistantship. The award recognizes teaching assistants who exemplify the qualities of Estus H. and Vashti L. Magoon, in whose name the award is given. Dean is mentored by CISTAR's Dr. Jeffrey Miller. 
Dean expressed his gratitude for the recognition, stating, "Upon being awarded the 2023 College of Engineering Magoon Teaching Award, I am beyond honored to be recognized for my efforts teaching reaction engineering. I genuinely enjoy working closely with students and walking with them along their educational journey. I am thrilled to have made a positive impact on the engineering community here at Purdue. Teaching pays dividends for my CISTAR research as well; I have had the opportunity to involve several undergraduate students from the classes I taught in my CISTAR research projects. I have had the distinct privilege to mentor and innovate alongside these brilliant CISTAR Undergraduate Fellows."
The College of Engineering Magoon Teaching Award is offered through Purdue University's College of Engineering Graduate Education program. Each year, Purdue CoE recognizes the accomplishments of outstanding graduate students and postdoctoral staff who have excelled in their teaching, research, and service. These recipients have shown significant achievement during their time at Purdue University.