CISTAR's Featured Fellow: Ricem Diaz Arroyo, Student Leadership Council 2023 Chair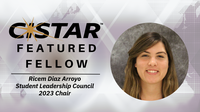 This semester CISTAR welcomes the new Student Leadership Council Chair Ricem Diaz Arroyo. Arroyo is a graduate student at Purdue University, and has been a member of CISTAR since 2020. She grew up in Caguas, Puerto Rico, and attended Puerto Rico-Rio Piedras and Puerto Rico-Mayaguez during her undergraduate education, where she received a degree in Chemical Engineering. Arroyo is working as a head representative for CISTAR Fellows and collaborating with the EWD team to host professional development and networking opportunities for the CISTAR student body. 
In speaking with Arroyo, we asked several questions to get to know more about her and her plans as SLC Chair. Continue to learn more about Ricem Diaz Arroyo and what is in store for student fellows in the coming year.
Q: When did you first decide you wanted to pursue Chemical Engineering?
A: "When I entered college, my family influenced my decision to stay in a college nearby; so, I decided to study pure chemistry first since I have loved chemistry from a very young age. My second year of college a friend invited me to a workshop in chemical engineering from the University of Puerto Rico-Mayaguez Campus (far away campus). After that workshop, I was fascinated by the field and all the possibilities of not only studying science but focusing on the applicability in industry and commercialization of different technologies."
Q: What qualities have helped you succeed in your academic and professional career?
A: "Perseverance and commitment. Nobody in my family did anything related to science or engineering, nor even think about getting a degree higher than a bachelor. Thus, all my experiences were new to me and my parents so it was difficult for them to give me advice. One of the factors that mainly kept me moving was being a role model for my younger sister, showing her that everything is possible if you work hard for it and that she shouldn't stop doing new things out of fear of the unknown. I had a lot of obstacles in my life (financially) to achieve my goals: my parents couldn't support my academic career so I worked multiple jobs to pay for it myself. It was hard not having much time to do anything besides working and studying, but in the end it was worth it. With the help of mentors along the way and my drive for always seeking new opportunities, I was able to continue growing my skills for my professional career."
Q: Can you explain your research at CISTAR?
A: "My research focuses on synthetic methods to influence the Al distribution in a crystallite-scale of MFI core-shell zeolites for olefin oligomerization. This approach allows us to design catalysts with tunable properties to optimize hydrocarbon resources production."
Q: What do you hope to do after graduation?
A: "I'd like to work in an industry possibly related to catalysis or other chemical processes in USA for at least one year before trying to give back to my island by working there and encouraging more young female students to study STEM and share my story so they can identify themselves and know their possibilities in life as an individual and professional."
Q: What opportunities do you have planned for CISTAR fellows this semester?
A: "The CISTAR fellows will have the opportunity to join the Industry Mentorship program this semester where they will be paired with industry professionals related to their technical background or soft skills they will want to improve. They also have the opportunity to give back to the community and encourage young minds to foster science and technology through outreach and educational activities coordinated by the CISTAR SLC team. Along with Peter and our connections to industry partners, they will have exposure to search for internships or jobs with our industrial partners. Lastly, they will have the opportunity to participate in the Innovation Academy designed to teach students how to assess risk (technology failure) and return (investment) of a potential idea."