CISTAR Congrats: Linsey Seitz
CISTAR Congrats Linsey Seitz, Northwestern University and CISTAR team member on her prestigious NSF Early Career Award!
Linsey Seitz Receives National Science Foundation CAREER award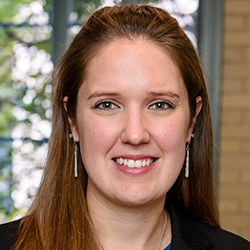 (March 2022) Linsey Seitz, assistant professor of chemical and biological engineering at the McCormick School of Engineering at Northwestern University, has received a Faculty Early Career Development Program (CAREER) award from the National Science Foundation (NSF)  in support of her research that will lead to improved technological feasibility of sustainable processes for the production of fuels and chemicals from renewable electricity sources.
The study titled "Probing and Controlling Acidic Electrocatalytic Oxidation Mechanisms and Catalyst Degradation Processes" will receive $603,221 over five years. The grant will begin in September 2022. 
While the research funded by this prestigious grant is not directly related to CISTAR, Seitz said the overall outcome of this study will aid in CISTAR's decarbonization ambitions:
"This NSF Career award will support research into new electrocatalyst materials towards the production of green hydrogen using renewable electricity sources. This research is complementary to CISTAR's goals; the results of this work will also enhance CISTAR's efforts to further reduce the carbon footprint of light hydrocarbon conversion processes via the use of green hydrogen and serve as a promising route to electrify manufacturing processes," Seitz said. 
The NSF Faculty Early Career Development (CAREER) Program is a Foundation-wide activity that offers the National Science Foundation's most prestigious awards in support of early-career faculty who have the potential to serve as academic role models in research and education and to lead advances in the mission of their department or organization. Activities pursued by early-career faculty should build a firm foundation for a lifetime of leadership in integrating education and research. Learn more about the NSF CAREER program.
Seitz's research seeks a fundamental understanding of catalytic materials and reactions using tools at the interface of electrochemistry and spectroscopy. Linsey earned her bachelor's degree in chemical engineering from Michigan State University as an Alumni Distinguished Scholar, and both her master's and doctorate degrees, also in chemical engineering, from Stanford University. Before joining Northwestern, she was a post-doctoral research fellow at the Karlsruhe Institute of Technology. Linsey has been named an NSF Graduate Research Fellow, a Stanford DARE Fellow, a Helmholtz Postdoctoral Fellow, and a two-time Scialog Fellow.