Sopuruchukwu Ezenwa receives the CoE Outstanding Service Scholarship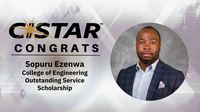 CISTAR congratulates Sopuruchukwu (Sopuru) Ezenwa, CISTAR Graduate Fellow for receiving the College of Engineering Outstanding Service Scholarship at Purdue University. The scholarship is awarded to graduate students who have provided excellent service to their graduate student community, school, college, and/or university. Each school nominates one student every spring, and Ezenwa is this year's school of chemical engineering recipient. He is advised by CISTAR professors Rajamani Gounder and Fabio Ribeiro.
"I am very grateful and appreciative to my nominators and to the award committee for selecting me as the Chemical Engineering awardee of the Purdue College of Engineering Outstanding Service Scholarship," Ezenwa said upon winning this award.  "This means a lot to me as it recognizes my various contributions in outreach, service, and leadership roles within and outside Purdue during my PhD journey. More importantly, it will serve to consistently remind me to continue to pay it forward to my communities as I strive for excellence in my current and future research pursuits."
The College of Engineering Outstanding Service Scholarship is offered through Purdue University's College of Engineering Graduate Education program. Each year, Purdue CoE recognizes the accomplishments of outstanding graduate students and postdoctoral staff who have excelled in their teaching, research, and service. These recipients have shown significant achievement during their time at Purdue University.