CISTAR News Summer 2023: Message from the Director
Dear CISTAR Community, We are more than halfway through Year 6 of our center. CISTAR continues to be an exemplary example of an NSF Engineering Research Center as marked by our progress in research, education, innovation, and diversity, and culture of inclusion over the years. I am confident our 2023 Biannual meeting at the University of Texas at Austin will be another opportunity for our team to collaborate on ways to continue this success. I would like to congratulate CISTAR's outgoing Engineering Workforce Development Director Allison Godwin on her new appointment as Associate Professor at Cornell University.
Furthermore, I'm proud to announce that Maeve Drummond Oakes is our new EWD Director.
Since joining CISTAR in 2019, Allison led research that mapped a list of vital skills and competencies, laying the groundwork for the concept of identity-based motivation. This framework is used to guide EWD activities in a way that gives students the confidence, training, and knowledge to succeed in the hydrocarbon workforce. Maeve and Allison collaborated on several education initiatives that contributed to the success of the EWD pillar. Their combined efforts have undoubtedly been instrumental in shaping the next generation of engineers in chemical engineering and energy research.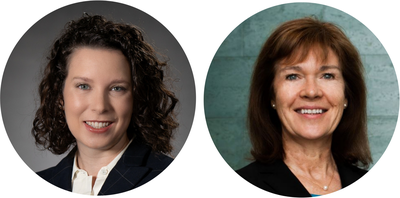 Allison Godwin, CISTAR's Engineering Workforce Development Director 2019-2023, accepted an Associated Professor position at Cornell University. Maeve Drummond Oakes is now CISTAR's new EWD Director.
Maeve joined CISTAR as Assistant Director for Education in 2018, and was promoted to Associate Director in 2021. In those four years, Maeve has successfully implemented multiple programs, including the notable National Science Foundation (NSF) Research Experience and Mentoring (REM) program in partnership with the National Society of Black Engineers (NSBE). This innovative program provides undergraduate students with an enriching six-week research lab experience at CISTAR's Purdue University, followed by a four-week mentorship role at one of NSBE's Summer Engineering Experience for Kids (SEEK) camps. NSF recently funded this program for a fourth consecutive year.
As Allison takes her expertise to Cornell University, CISTAR expresses sincere gratitude for her significant contributions and wishes her all the best. CISTAR congratulates Maeve on her new role as EWD Director and looks forward to her future successes in the position.