Are you following CISTAR?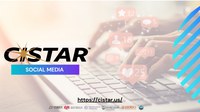 If you didn't know, CISTAR is on Twitter, Linkedin, Facebook, Instagram, and YouTube. If you have a moment, please visit our pages, follow our accounts and share our content when possible to attract new followers. 
If you have an announcement or photo that you think would be good to post, please e-mail Brittany Bright (bright9@purdue.edu) or fill out the form on the cistar.us homepage.
You can also view CISTAR's Social Media Guide available here.
Commonly used CISTAR Graphics, Templates, and Logos
These commonly used files are available on the Google Drive at the following locations for the team to easily find and access: 
Here you can find the Three-Plane Diagram, the bridge diagram, and graphics used on the research posters. 
The different versions of the CISTAR logo are available in addition to IAB member logos, partner university logos, and some collaboration partner logos (like NSBE SEEK).